Welcome To The Blogger Opp For The Ultra Pro Learning & Play Mat Giveaway!
(Sign Ups Close 2/1/16) Free & Paid Options Available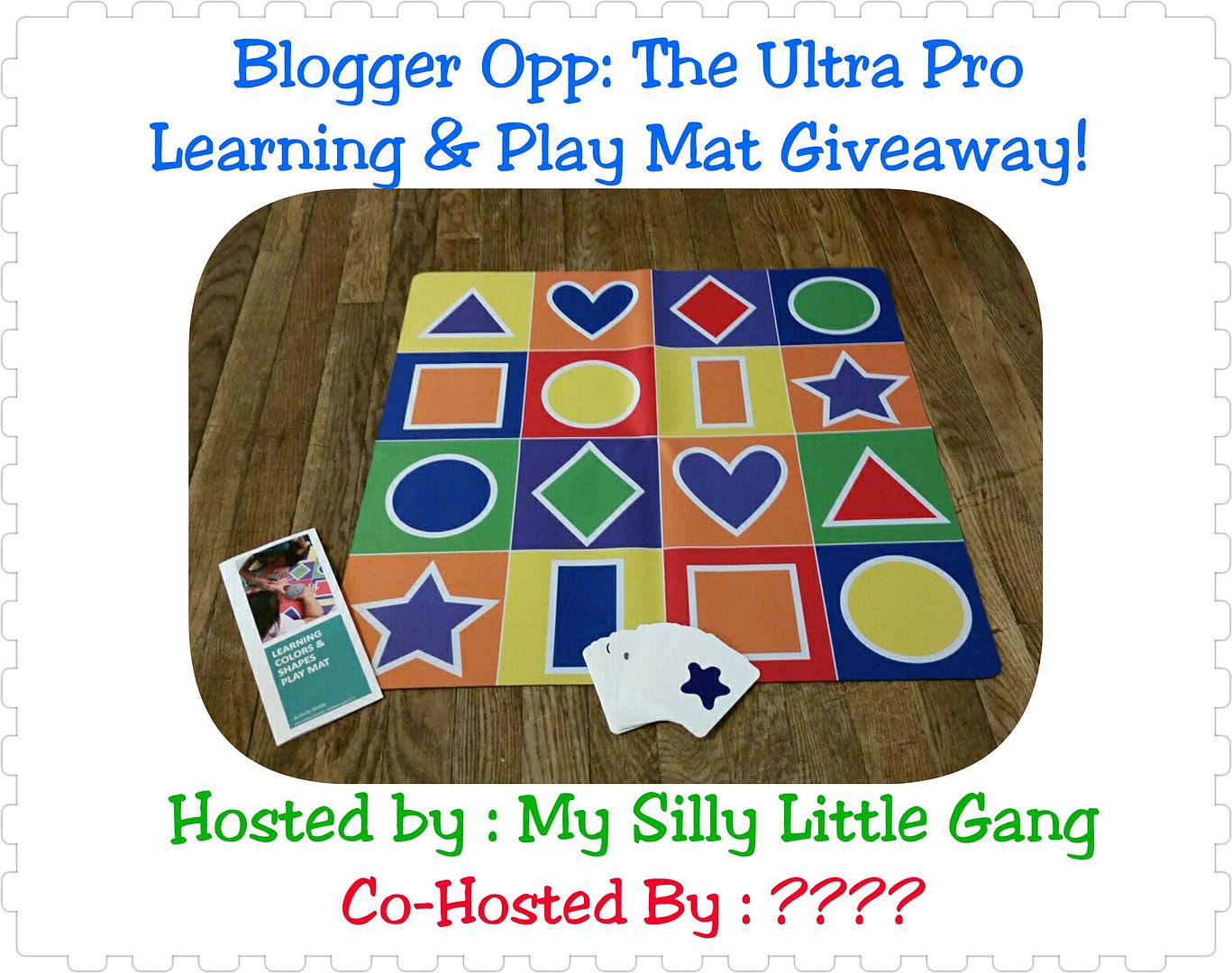 I have another blogger opp that I need your help with. That's right, My Silly Little Gang is hosting another giveaway. This one is for 1 lucky reader to receive an Ultra Pro Learning & Play Mat.
Ultra Pro knows that understanding shapes helps children to develop the foundation needed for math and other academics. That's why the shape-themed games that come with this mat provide children with the opportunities to learn about matching, creative thinking, and problem solving.
This mat features:
A beautiful soft surface that is perfect for playtime and educational activities.
Actual Mat size is 24" x 24" and it is washable for easy clean up.
Includes 24 activity and yoga cards plus a guide with 20+ activity ideas.
This mat lays flat on a table or floor surface and folds easily for storage.
It also meets all safety standards set forth by the CPSIA 2008 and EN71.
This product has been tested and is recommended for children ages 2- 5.
Manufactured in the U.S.A. with imported materials.
Please sign up now and help me promote this giveaway.
Each blogger will receive 1 FREE Link For Agreeing To Post Giveaway On Time and Promote 3 to 4 times a week Via Social Media. (Choose from Facebook, Twitter or Pinterest ONLY)
PLUS you can get a 2nd FREE Link If You Post The Announcement (Choose From Facebook, Twitter, Pinterest OR Instagram)
Co-Hosts Wanted & Needed: $5 for 5 links of your choice (you can choose any other than Google+). You can do Facebook Comments, Blog Comments, Daily Votes, Social Media Follows of your choice, ANYTHING! PLUS the 2 FREE links above gives you 7 Links Total! Co-Hosts will also be promoted via link backs to their site, extra follow pages & Co-Host Pages! (# of extra follow pages depends on # of sign ups so promote, promote, promote!) Co-Hosts are not required to post announcement but it is greatly appreciated!
Other Sign Up Options Available On Sign Up Form
SIGN UP HERE
Or Below
Sign Ups Close: 2/1 @ 11:59 PM EST
Open To US and must be 18+ to enter
Giveaway Dates: 2/05 12:01 AM EST until 3/3 11:59 PM EST
The Blogger With The Most Referrals will Receive a FREE Co-Host Spot On This Giveaway or a Future Giveaway (you choose if you win)! Promote Away and Make Sure They Know To Say You Sent Them! Minimum of 4 referrals to win free spot on next promotion or promotion you choose.
To Enter On The New Google Document Just Click On The "Your Answer" Line and Type In The Information. Thanks So Much!!